MCM2 RECORDER Nats
MCM2 RECORDER SX
Happy Birthday Twisted D.I.R.T.
Aug 24 2014 - 12:23:00 PM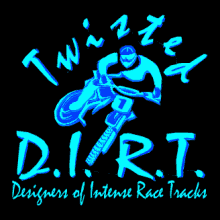 August 01, 2014, 05:23:30 pm by DirtTwister.
Today marks 15 years since we first opened the
Twisted D.I.R.T.
website on 8/1/1999. It started as 5 guys getting together to learn to make tracks for Motocross Madness 1. Games and members have come and gone, but we are still here with the same goals. Those who were around at that time remember the Game Zone and the tremendous amount of tracks being made for MCM 1 at it's peak. Motocross Madness 2 continued that tradition.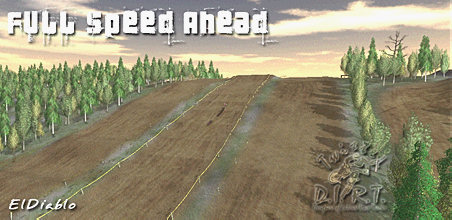 Welcome to our new Website
Aug 23 2014 - 09:17:00 AM
Hi everybody, finally, here is "your" new Website !

15 years after THE big start of the adventure ...
Personally, I joined the story in 2002, it was already almost too late, the
Zone.com
will close the doors later, like some other great Websites like "
Central
" motocrossmadness2.com, the main Website where a ton of tracks and skins were uploaded. There were hundreds & hundreds players everywhere, on the forums, playing online, at every hours, days like nights, it was great to participate in some tourneys organized by several different teams. To The Max racing made a time recorder, it was the war between some very fast riders to obtain the best laps possible on a ton of usertracks. But... the dream was broken, +/- in 2005 ...
TTM
also closes its doors, like
Maui_Cool
, ... ... ... and a new game appeared, it was called
MXvsATV
, and all the survivors of
Motocross Madness 2
are quitting their game, except some
fanatics
addicts, who are still here today.
Then

the years passed

,

and

here we are already

at the dawn of

2015 !


We also
learned of the disappearance
of some players
,
but
life must go on
, at least
still trying
to spend quality
time together.
We all here remember very well all the oldies, the different teams etc.
Facebook
was our meeting point, via a dedicated page to
THE
game,
MCM2
.
Well, I'll
stop here
,
because English
is not
my mother language (I can type pages and pages about the game),
and I still have
a lot of work
to finish this
new Website.
I count on
you all
to help me
through
the
suggestions
option
,
located in the main
menu. You can upload tracks, skins etc. with their own pictures, just be patient till the approbation of your uploads. That's only for the registered members.
Have fun, AGAIN
and like I already said in the past, thanks to

Twisted Dirt

for all what they did !!!
Page :
1
2
[3]